Space-Saving TV Wall Ideas Suitable for Every Home
Want to make the most of your living room space? One of the easiest ways you can do so is with a mounted TV to save some floor space! If just mounting the TV on the wall is too boring for you, check out our list of interesting TV wall designs that are not only space-saving but also double up as a feature wall and statement centrepiece in your home. Scroll down to explore some of the best space-saving TV feature wall design ideas suitable for every home.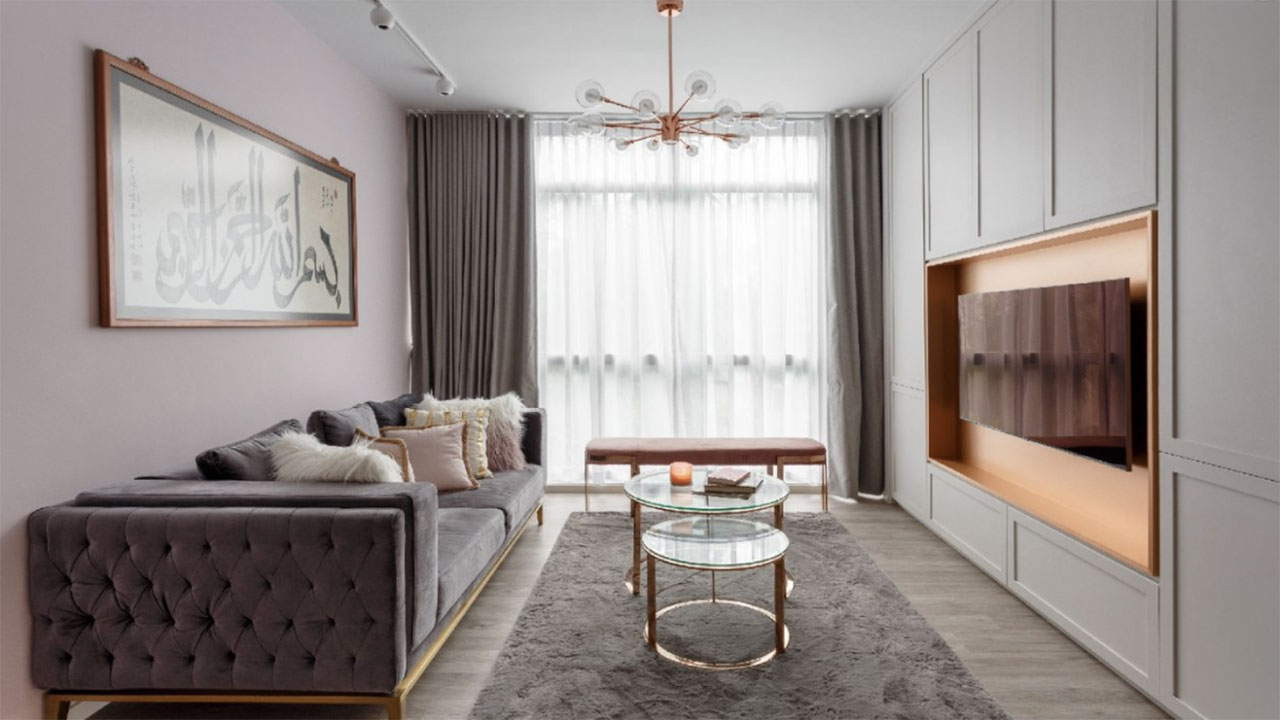 Simple & Fuss-Free TV Wall
Starting with the most basic and functional design, you can simply opt to mount your TV on the wall. To incorporate storage, you can simply add a small wall-mounted ledge or cabinet just below the TV for quick and easy access to storage space which also doubles up as display space for photo frames or plants.
Tip: Want a more interesting backdrop? You can opt for bright colours, or unique mural designs painted on the wall just behind the TV.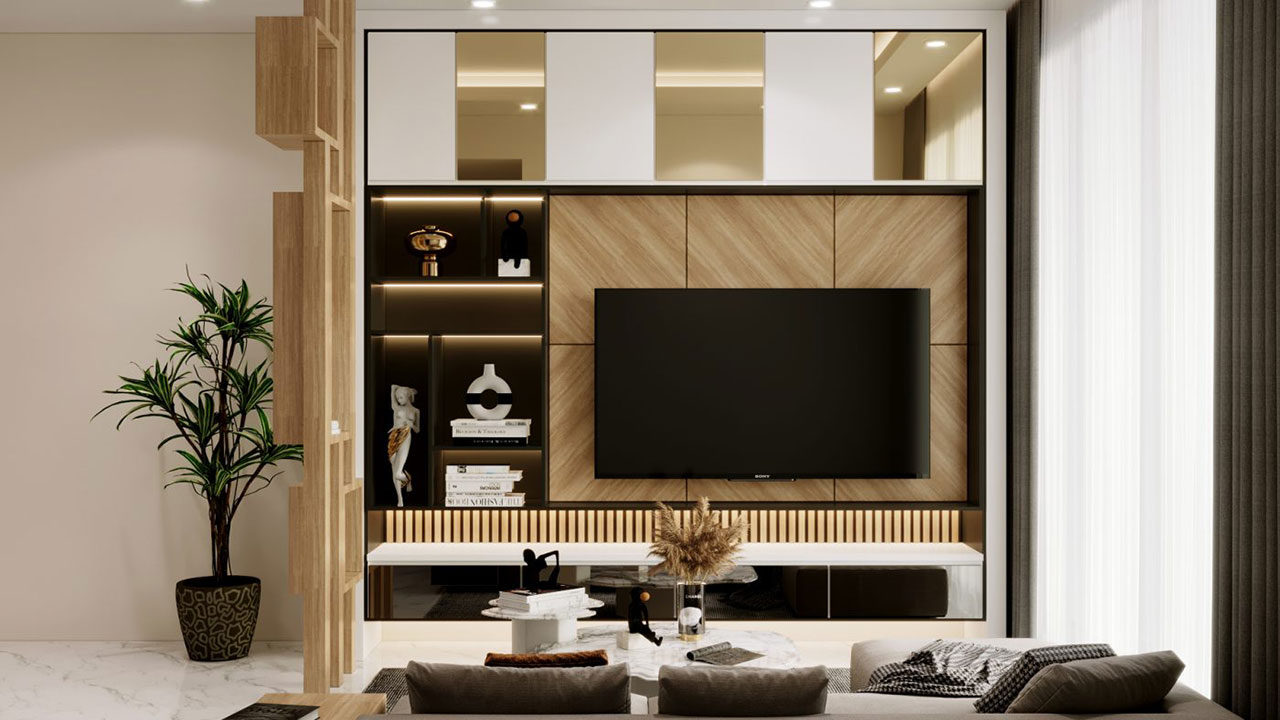 Scandinavian Wooden TV Wall
If you are going for a simple and minimalist Scandinavian theme for your home, a TV wall with complementary woodgrain textures would blend perfectly with the overall look.
Prefer a completely minimalist look? Simply mount the TV on the feature wall. Want to add a little additional storage? Consider building shelving around the TV for simple decorative accessories or a useful space to keep away the TV remotes and appliances.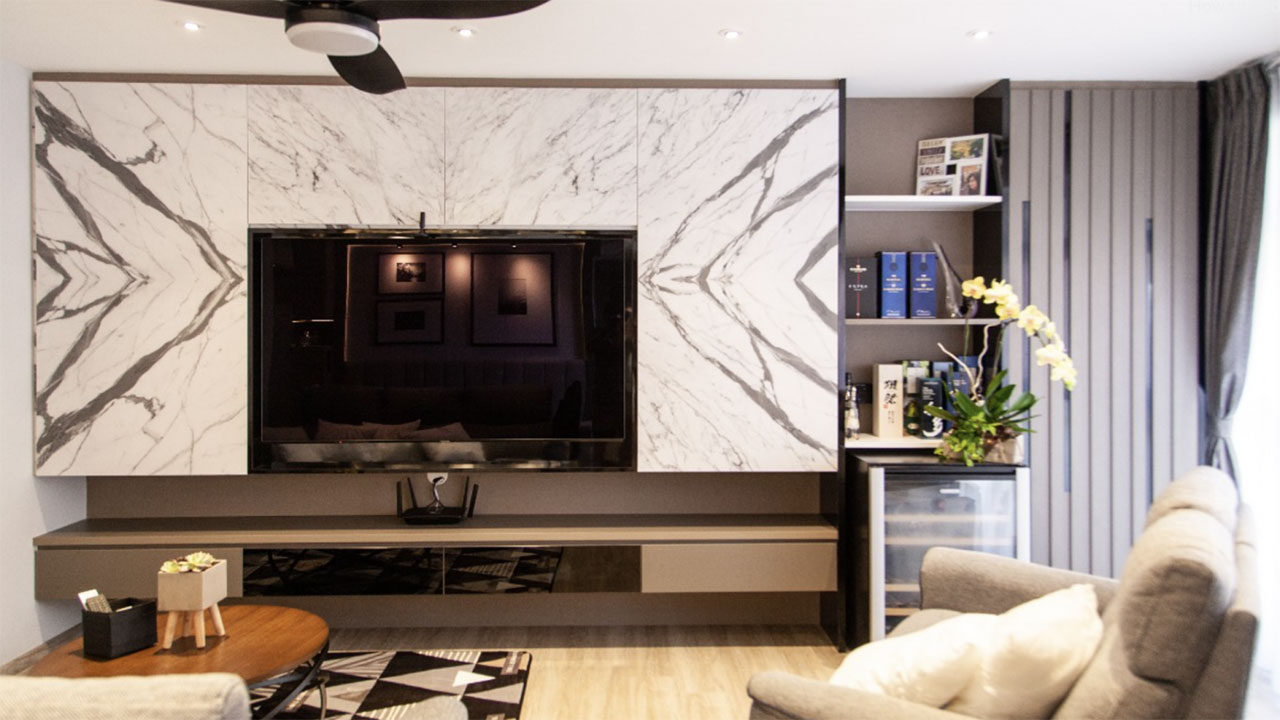 Going for a sophisticated and luxe look for your home? Consider amping up the design factor with marble or marble laminate panels to create an accent wall behind your wall-mounted TV.
Bonus: The unique marbling veins on each marble slab or panel can also double up as interesting artwork on the wall making it the visual focal point of the living room.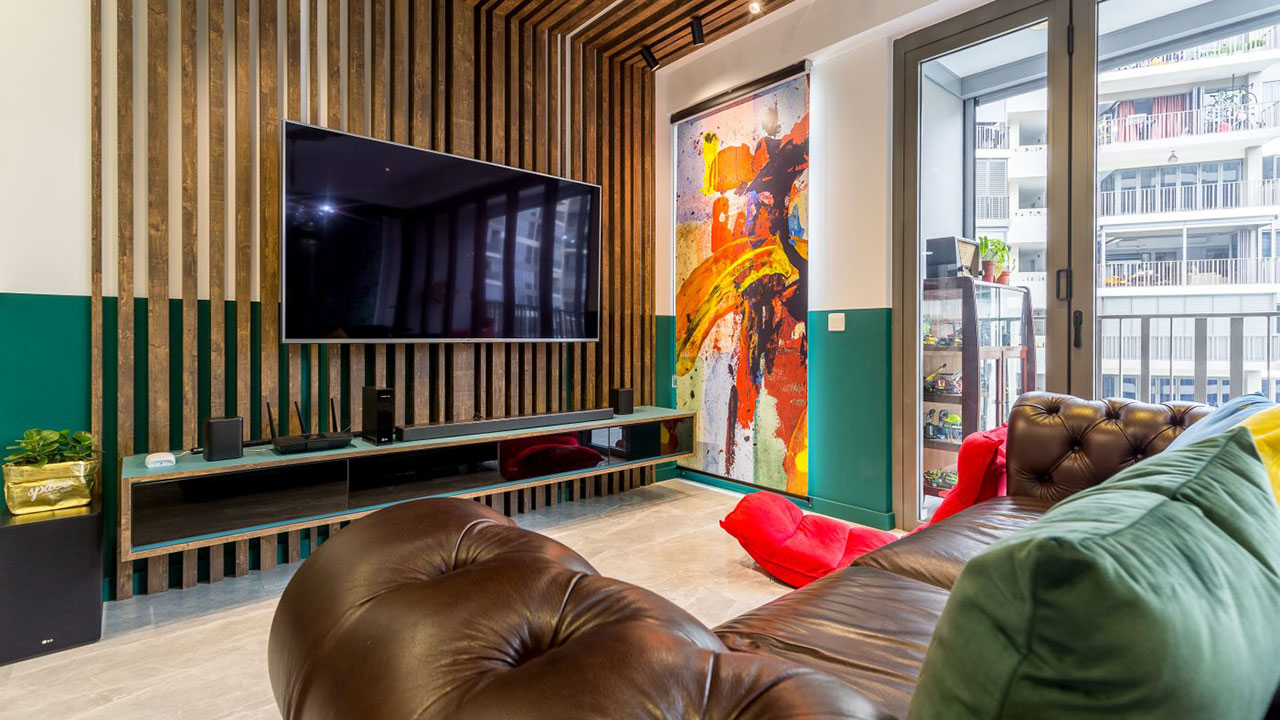 Decorative Wall Panelling TV Wall
Looking for something more unique? How about a brick wall, stone panels, wood panels, or even decorative mouldings? Well, that is where decorative wall panelling comes into play!
Choose from a wide variety of textures, colours, and finishes to create a one-of-a-kind feature TV wall that will catch the eye of any guest who visits your home.
Get creative with your TV wall arrangement by blending it amongst a gallery of artwork or photo frames!
This not only takes the focus off the clunky TV itself but also doubles up as a great way to showcase your favourite photos and artwork.
Want to keep things minimalist? You can always opt for a recessed TV wall for a clean and sleek design.
Like the idea of having your entertainment systems tucked cleanly away for a clean and uncluttered look in your living space?
A hidden TV wall will do just the trick! Whether you opt for sliding panels, use folding cabinet doors, or hide it behind a bi-fold panel painting, you can easily hide your TV when you are done with your Netflix binging session.
Want to Give Your Living Space a Facelift?
Contact an interior designer to how they can help you come up with the perfect space-saving TV wall design and more.
Try out ID Mate, Redbrick Home's all-new algorithm-powered matchmaker for new homeowners and interior designers, and find your perfect match today!
Related posts